About the
Firm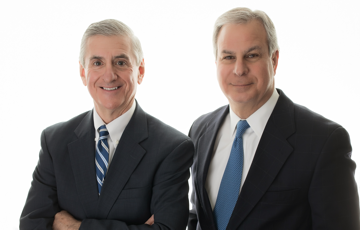 Joseph W. Flynn & Charles T. Alfano Jr.
Established in 1948 by Charles T. Alfano Sr. (1920 - 2016), Alfano & Flynn is a leading regional law firm serving Hartford County and North-Central Connecticut. With offices in Suffield and Hartford, our practice has a proven record of innovation and the highest quality work for our individual, institutional, and corporate clients on a broad range of legal needs.
Alfano & Flynn exemplifies the best of the old and the new—an independent law firm devoted to excellence and dedicated to creating innovative solutions for our clients. Our mission is to provide our clients the highest quality legal services in an efficient, cost-effective, and responsive manner to help them achieve their goals.
Many of our clients have been with us for a generation or more. Alfano & Flynn remains committed to every client, large and small, with the personal attention and skills of our member attorneys. We take the time to understand each client's individual needs to provide practical, economical counsel. more
Values
Our values are a fundamental part of what we are and shape what we do and how we do it. They guide the operations of our business and our underlying culture.
Client Satisfaction

- We satisfy our clients through a deep understanding of their needs, their businesses, and their industries, and by providing excellent, responsive, and innovative service.

Versatility

- We provide our clients with leading capabilities in a variety of legal areas including corporate transactions, trial litigation, real estate, and finance. Our commitment to quality is client-specific, and unlimited.

Character

- We combine technical excellence with the highest ethics and integrity into focused solutions for our clients. Complete satisfaction is our top priority. We adhere to the highest standards of legal excellence and service.

Commitment

- We put intense effort into our work and actively look for ways to deliver the best results for our clients and so for our firm. We provide every client, large and small, with the personal attention of our legal team.

Citizenship

- We embrace our responsibility to give back to our communities through community service work and we are committed to a diverse workforce.